25 Teams In 25 Days: Thomas Jefferson Orange Wave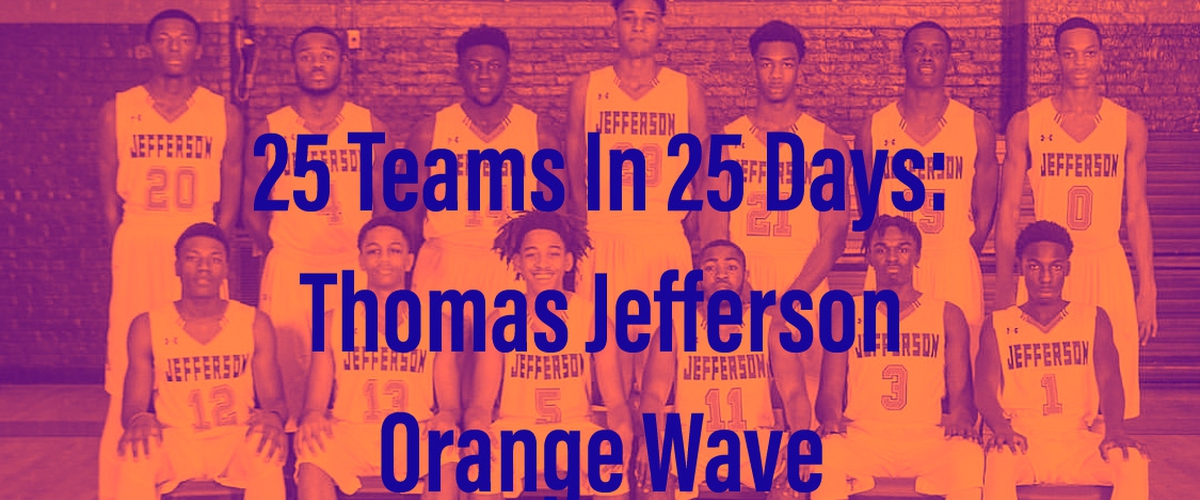 2016-17 Season At A Glance: 12-11 Overall record 9-5 record in Brooklyn "AA" division 2016-17 runner up in city championship
Key Addtions: G Jaquan Carlos
Players to Watch: Jaquan Carlos, Marcus Burnett, Dashan Crittenden
True Grit is one of many things that define this year's Thomas Jefferson Orange Wave Team. Coming off of a disappointing end to their last season in the psal championship, the Orange Wave are focused on making a deep postseason run once again. The team returns several seniors from last years team.
This Thomas Jefferson team may be young and small but given the toughness that they have they can really compete with anyone. The Orange Wave held their own in the preseason reaching the championship game of the Hype City league and almost upsetting defending CHSAA champion Cardinal Hayes and just recently they took down Curtis High school the top team in Staten Island and one of the elite teams in New York City. Those performances prove that despite their youth, the Orange Wave shouldn't be taken lightly.
The backcourt of Marcus Burnett and freshman Jaquan Carlos are set to make a lot of noise this season. In the many times I have seen Carlos play, whether it was the Smartball classic or Hype City, i don't really see a freshman the 6-0 guard may be ahead of his time at this point. Burnett a 6-4 Sophomore who already has an offer from NC State is up for a big season himself. One player who is the x-factor for Jeff is Dashan Crittenden, a 5-10 guard who can provide instant offense for this Orange wave team.
2017-18 Outlook
The Orange Wave is another team that shouldn't be slept on this season. This team definitely has a chance to make a post season run in March. Regardless of how this season may end one thing for sure is that the future is bright in East New York.
Key Games to Watch
December 2nd: St. Rays at Jefferson
Coach Bud Pollard is one of many coaches who want their teams to be challenged early so scheduling a non-league game vs St. Raymond's is a great example of that.
December 12th Jefferson vs South Shore
South Shore is one of many teams that Jefferson has to go through in order to win the Brooklyn "AA" division. If the Orange wave want to prove to the doubters that they are for real they will need to win this game.
January 13th: Jefferson vs Abraham Lincoln
If you know the history between these two schools, then you know that this game will be one of many epic battles between both teams. This is one game where early arrival is advised.