25 Teams In 25 Days: Abraham Lincoln Railsplitters (Updated)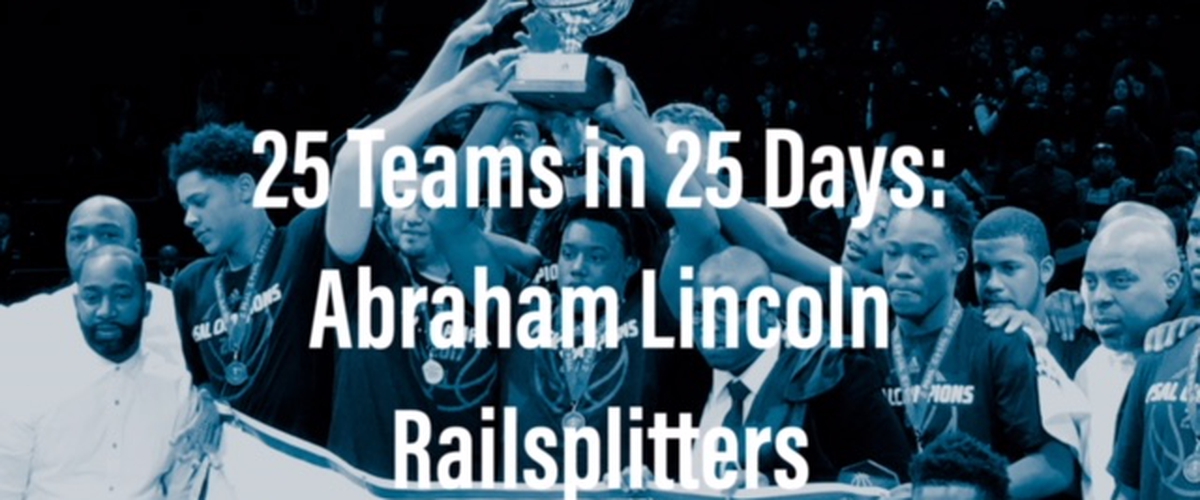 25 Teams in 25 Days: Hoop Dreams NYC's 2017-18 High school hoops preview.
2016-17 season at a Glance: 28-3 overall record, 14-0 regular season record, (Brooklyn "AA" regular season champs) Brooklyn Borough Champions, PSAL City champions, NY State federation champions.
Key additions: KC N'defo
Players to watch: Jasiah Lewis, Curtis Gordon, and John Wilson
With the Brooklyn "AA" division getting much stronger The Abraham Lincoln Railsplitters will be heading into the 2017-18 season being the hunted, but with a few key players returning and Coach Tiny being the top coach in the city, this team will be ready for another title run.
Lincoln returns a huge amount of players from last year city and state championship team, and they also have some key transfers that will make a huge impact. It will be a big season for guards Jasiah Lewis and Curtis Gordon as they will make up for the scoring that was made by Klay Ferguson-brown, Donald Flores and Mike Reid. Gordon is a slasher who can get to the rim with ease as well as defend and Lewis can score and run an offense with the best of them. Lewis and Gordon will have help with underclassmen John Wilson, Junior Southerland as well as forward KC N'defo who transferred to Lincoln From Elmont in Long Island.
2017-18 Outlook
The Railsplitters will be pushed to the brink in the Brooklyn "AA" division this season, but it will prepare them for another deep postseason run in 2017-18. You will be a fool to look at what Lincoln lost from last season and believe that they won't get to the Garden. All it takes is a big year from Wilson as well as others to make that return to MSG.
Key games to watch:
December 19th: Abraham Lincoln vs South Shore
Canarsie Vs Coney Island. This game will be the rematch of last years Brooklyn borough championship. South Shore was 2nd in the Brooklyn "AA" division last season and they have improved since then. When it comes to the regular season title, these two teams will be battling for it throughout the season.
January 13th: Lincoln vs Thomas Jefferson
If you know the rivalry between these two teams then you know every game is going to be a goodie. The featured matchup in this game should be between Marquis Burnett and John Wilson.