25 Teams In 25 Days: Archbishop Molloy Stanners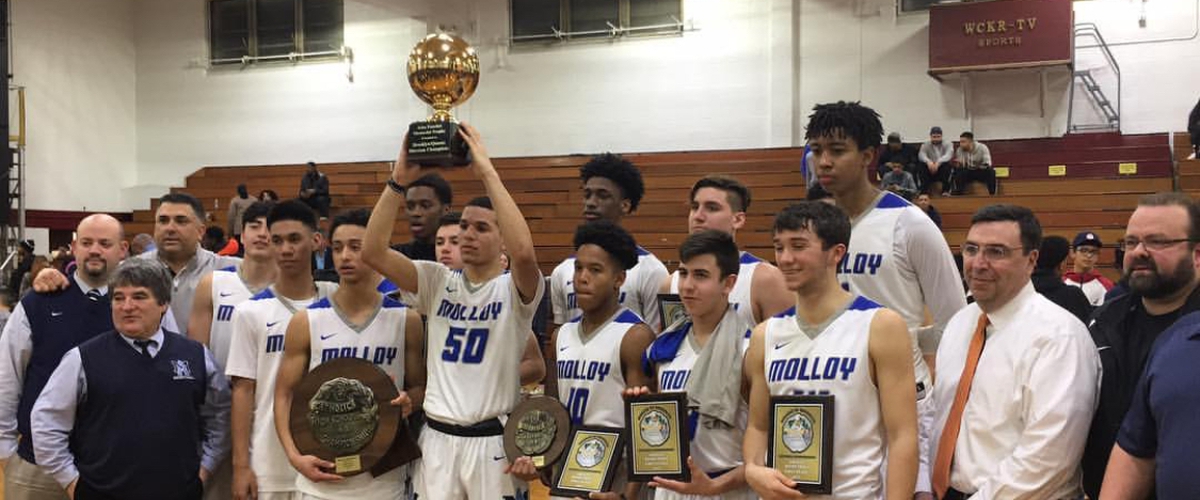 25 Teams in 25 Days Hoop Dreams NYC's 2017-2018 High school basketball preview

2016-17 At a Glance: 23-8 record, Brooklyn/Queens Diocesan Champions. CHSAA City Championship runner-up

Key Returning players: Cole Anthony, Moses Brown, Khalid Moore

The Archbishop Molloy Stanners will have revenge on their minds when the 2017-18 season starts. It was in March that the stanners lost the CHSAA title to Cardinal Hayes but the team has matured and gotten better since then.

The Stanners will probably be Ranked No.1 in the city and state when the season starts, but the Stanners are already ranked nationally. The Stanners are ranked No.15 in the nation according to Flo Hoops. The trio of Cole Anthony (No. 1 PG in 2019), center Moses Brown (No. 6 in the ESPN 100) and Georgia Tech bound wing Khalid Moore is one of the top trios in the city.

This season will be huge for the Stanners as they will be playing in several national tournaments such as the hoop hall classic, the City of palms classic and the SNY invitational among others.

Top games to watch

Just about every game Molloy is playing in this season is gonna be worth watching but there are definitely few to keep an eye on.

Friday Dec, 29th vs Cardinal Hayes at 7:30 pm (Home)

This game will be the rematch of last years city championship. This game will also feature the matchup between Cole Anthony and Joe Toussaint, two of the top point guards in New York City and both teammates with the PSA Cardinals.

Sunday January 14th: Molloy vs Dematha Catholic (Away)

Molloy will make their appearance at the prestigious Spalding Hoophall classic, as they will face of against Washington DC powerhouse Dematha Catholic. The game will be one of many tests for Molloy.

Friday February 2nd: Molloy vs Christ The King (Home)

If you know the rivalry between Molloy and CTK then you know this game will bring out a huge crowd. The potential matchups that will be featured in this game will be Cole Anthony vs Tyson Walker and Moses Brown vs Kofi Cockburn. This game is just one of two meetings between the schools this season

January 26th and 27th: SNY Invitational at City College of New York

Archbishop Molloy will be making their 1st appearance at the SNY invitational in 2018. Their opponent hasn't been announced yet but other schools participating in this event are Hudson Catholic, LuHi and Cardinal Hayes.

Tuesday February 6th: Molloy vs Stepinac (Away)

The last time these two met Was the CHSAA City semifinals when Molloy edged Stepinac in a semifinal game that was controversial according to many. This game in white plains will be a big game.

The Archbishop Molloy Stanners definitely have the personnel, and the experience to get back to be contenders in the CHSAA. This will be a big season for the stanners especially for the seniors. The stanners open their season on December 7th vs St. Anthony (LI).
Video courtesy of Overtime