25 Teams in 25 Days: Cardinal Hayes Cardinals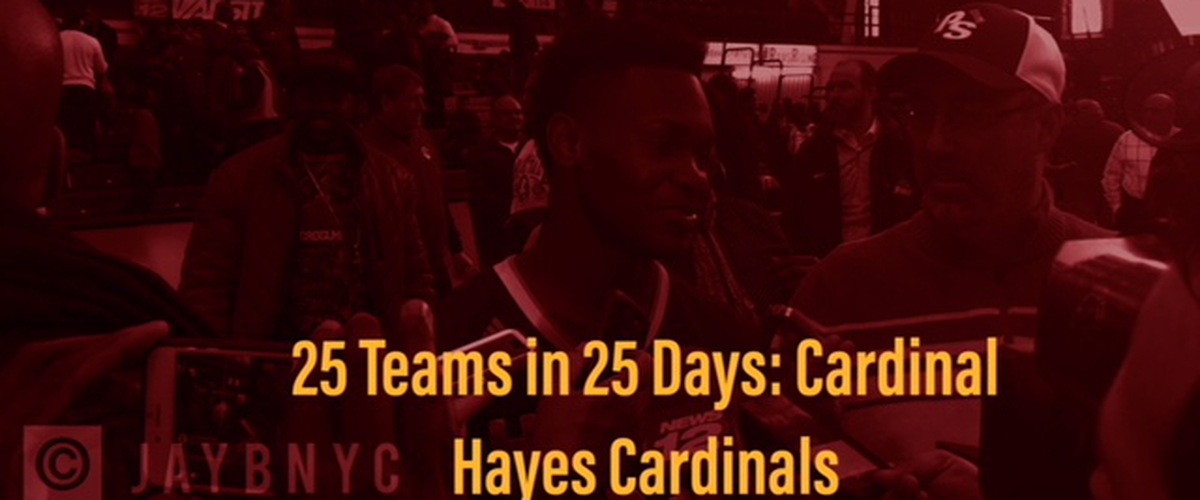 25 Teams In 25 Days: Hoop Dreams NYC's 2017-18 High School Basketball Preview
2016-17 season at a glance: Won CHSAA "AA" city championship, reached NY State federation semifinals

Key additons: PG Jaylen Murray (Transfer from Wings Academy)

Players to watch: Terrance Reeves, Joe Toussaint and Tyrese Williams.

Depth, Chemistry and Defense these are three words that describe the 2017-18 Cardinal Hayes Cardinals. It's no question that the Cardinals are more hungrier than ever for another championship run.

The Cardinal Hayes Cardinals have showed that by winning two of the top preseason tournaments in NYC, Hype league City and Tru-Ballaz. Winning those tournaments wasn't easy either, many teams they faced pushed them to the brink of giving up, but one thing this team has proven to do over time is to overcome adversity. Preseason tournaments is something we can't put a lot of stock into but it's safe to say that Cardinal Hayes looks prepared for the season.

Wings Academy transfer Jaylen Murray '21 fits in well with the Cardinals at times he has stepped up and provided some much needed offense to push the Cardinals ahead. Big man Adam Cisse will be huge for Hayes as he will be active this season. The 6-9 center gives Hayes the front court presence they will need.

Joe Toussaint has proven to be a leader and he has never backed down when the spotlight was on him. Toussaint has gotten MVP honors in both of the preseason tournaments they played in. Toussaint along with Quinnipiac bound Guard Tyrese Williams will make for one of the top 5 backcourts in the city. Williams a 6-2 guard from Beacon, NY can impact the game on both ends.

The Cardinals have a supporting cast that will help them in dire situations. Terry Dawkins has shown that he has added a three point shot to his game while Terrence Reaves continues to show up and provide when they need him the most. In Monday's Tru Ballaz Championship game vs Archbishop Stepinac, Reaves hit some big shots down the stretch to lead them to victory. Jontai Williams is another guard to look out for, the 5-10 guard has came up big in many of their wins last season. A lot of these players know how to step up when it's time to contribute.

2017-18 Outlook

Cardinal Hayes will be favored by many to win the CHSAA City title in 2018 and its a safe bet. The road to the championship could be tougher because many other teams have matured and made changes, but it's known that Hayes will have to respond well to any challenges they have in front of them.

Key games to watch

December 1st: Cardinal Hayes vs Christ The King

The Cardinals will start their season at home vs a potential contender in Christ The King. Christ The King features senior point guard Tyson Walker, and center Kofi Cockburn who is ranked No. 34 in the ESPN 60. This one test the Cardinals will have to face to prove that they can make a big run.

December 29th: Cardinal Hayes vs Molloy

This game will be the long awaited rematch of the 2017 championship game. This game will be in Queens, and there is no school during this time so expect a packed gym.

January 26th and 27th: SNY Invitational
It remains to be seen who will the Cardinals face off against in this tournament, but whoever they play it's a given that the game will be a great showdown. Hudson Catholic, Archbishop Molloy, and Long Island Lutheran are the other participating teams in this tournament.