A Golden Opportunity At The Unsigned Hype Senior Showcase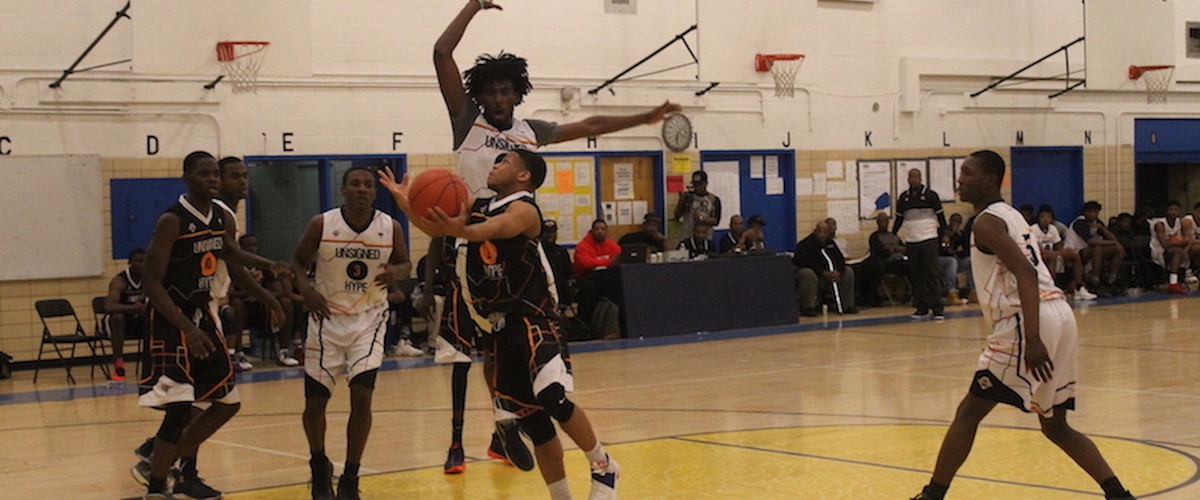 The first weekend of April is showcase weekend in New York City, a time where many players are getting a chance to play in front of many college coaches for a chance at getting a free education. This time is critical for many of these players who are unsigned and looking for a chance at getting a scholarship.
One of many events that occured during that weekend was the Unsigned Hype senior showcase at George Westinghouse High School in Brooklyn. The founder of this event, James Barrett came up with the idea for this event to give players a chance to showcase their talent in front of college coaches. " Back when I was trying to go to college, I had very few options so I thought If i started an event where many players get to play in front of a ton of college coaches ,that will better their chances of going to college for free" Says Barrett. The Unsigned Hype senior showcase has had tons of alumni Including Jordan Washington (Iona), Isaiah Deas (LaSalle), AJ Williams (Clark Atlanta) and the list goes on.
On Saturday there were many seniors who shined on the court here's a few that may have helped their chances at getting a scholarship.
Kyle Harding, G- Thomas Jefferson High School , Brooklyn, NY
Despite the loss, Kyle Harding shined in the second game for team black by scoring 21 points. The 6-0 guard can shoot the ball as well as attack the rim and get players involved on offense.
Keyon Smith F- McKee/Staten Island Tech
The 6-8 forward led the White team to victory in the first game where he scored 18 points and grabbed 8 rebounds. Keyon can do things a lot of guys his height can't do in the PSAL, and those things are shoot from outside and run the floor. Low D1's as well as some high D-2 schools should be on his radar because he definitely has the size for a wing on that level. Smith Won MVP in the first game as Team Whiite defeated team black 102-86
Devale Johnson F- Brooklyn Collegiate High School, Brooklyn, NY
Devale was forced to play center but that didn't stop him from performing in front of college coaches. Johnson scored 6 points and 5 assists but what stood out more is how he defended, Johnson blocked 8 shots and grabbed 10 boards. Johnson's versatility is something D-1 coaches will love.
Joel Boyce G- St. Luke's Academy , Connecticut
Boyce a 6-3 guard from Queens scored 10 points, 6 rebounds and dished 5 assists in the 2nd game. Boyce is one player who could possibly end up playing for a mid-major in the fall.
Deandre Bourne G- Leman Prep, New York, NY
Deandre Bourne is definitely a D-1 bound guard and he should have gotten a ton more offers than he had this past season. Bourne has the grades to attend any school in the country, and he's a legit shooting guard who can fill it up. at Leman Prep he scored 2,000 career points . In last Friday's game he scored 13 points.
Hegel Augustin G- Springfield Gardens HS, Queens, New York
Hegel Augustin got MVP Honors in the second game by scoring 16 points and grabbing 5 boards. The 5-10 guard displayed one of his best attributes and that's his ability to shoot from three point range. Any coach that needs a shooter has to offer him ASAP.
Mike Pollard G Nazareth High School, Brooklyn, NY
Mike Pollard put on a show with his offense in front of coaches whether it was shooting from the outside or attacking in transition. Pollard scored 18 points in the win for team White in the 1st game.
Other Notable Performers:
Mike Reid (Abraham Lincoln Brooklyn, NY), Tyrese Gaffney (Bishop Loughlin Brooklyn, NY) Zack Bruno (Xaverian HS Brooklyn, NY) Alonzo Ortiz- Traylor (Monsignor McClancy Queens, NY) Tilquan Rucker (South Bronx Prep- Bronx, NY) Valentin Van Putten (Brandeis High School New York, NY) Jahroll Thomas, Derohn Mitchell (Immaculate Conception HS, NJ), Shevon Ansica (Thomas Jefferson HS, Brooklyn, NY) Khalil Rhodes (Thomas Jefferson HS, Brooklyn NY) Kwame Oduro (Canada)