ACC Quarterfinals Recap: Duke and North Carolina Muscle Their Way Into The Semifinals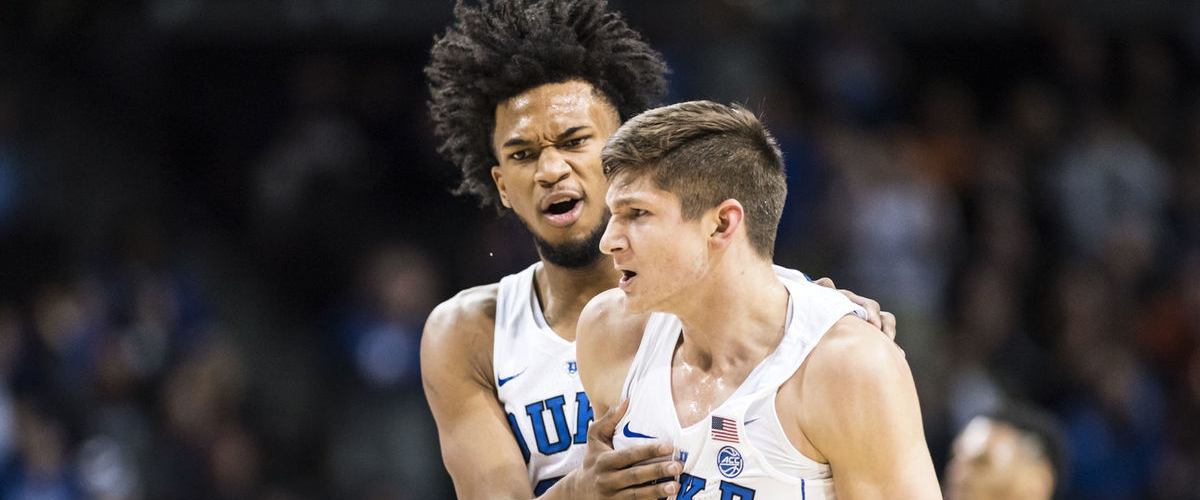 Photo credit Andrew Dye/Greensboro.com
The nightcap of the ACC quarterfinal round provided us with 2 great games with big performances from the top players in the Conference.
Duke 88, Notre Dame 70
The history between Duke and Notre Dame in the acc tournament is very interesting. In 2015 and 2016, the Blue Devils have fallen to the Irish in the quarterfinals and semifinals respectively but in 2017 Duke took down the Irish in the championship. This year the Irish were looking to get a signature win but Marvin Bagley III and the Duke Blue Devils had other plans.
The game started as a back and forth battle between the two teams as the Irish were having a better 1st half than they did against Virginia Tech. Duke got contributions from everyone but freshman forward Marvin Bagley was having a huge game early, throwing down dunks and hitting shots from three-point range. Duke's offense was clicking, but the Irish had answers, Forward John Mooney threw down a dunk to as time expired but the Blue Devils went into the half up 41-37.
The second half is where Duke got busy and dominated. On the defensive end, Duke forced Notre Dame into bad three-point shots and dominated on the glass. Duke would outscore Notre Dame 47-33 in the second half and win 88-70. Despite his big performance in the NCAA tournament, Marvin Bailey remains humble going forward. " You know we are definitely on a roll right now everything is but we don't have everything figured out yet. We are still learning one thing at a time, but I definitely think that we are getting better and we are continuing to grow as a team, and its not a better time to grow than March when we are getting in to tournaments and stuff like that, it's a perfect time for us to come together and play at our best."
The loss to Duke may have hurt their chances of going to the NCAA tournament a bit but Coach Mike Grey is still focused on preparing his team for the postseason. " You know when you lose seven in a row and you are under .500, you are talking and dreaming about making a run to the bubble, which I'm very proud that we did, but you're also talking realistically with our seniors if that its the NIT we'd be honored, and lets come back to the garden, None of these guys have played in the Garden.
North Carolina 82, Miami 65
The North Carolina Tar Heels faced a difficult task in the first half as they found themselves down 14-0 to the Miami Hurricanes. It was a very unlikely start for the Tar Heels but they managed to fight back. "Down 14-0 I wasn't really pleased with those guys, After that those five guys came in off the bench, Seventh, Andrew, B.Rob Garrison and Sterling, they really did a great job.The Tar Heels found themselves in the same situation on senior night, which explained why señor forward Theo Pinson was unfazed. "I think at that point we've been here before even with the same team.We were in the same situation last week. We knew they were going to make a run, there were shots they can make, but I think we were rushing them we are a little antsy about the game, and they just didn't fall for us.
The Bench unit for UNC came up huge for the Tar Heels so huge that they contributed to Carolina outscoring Miami 32-17 to take a 32-31 lead into halftime. in the second half, Miami put up a fight but the resurgence of Theo Pinson continued as he went off for a career-high 25 points and 11 rebounds.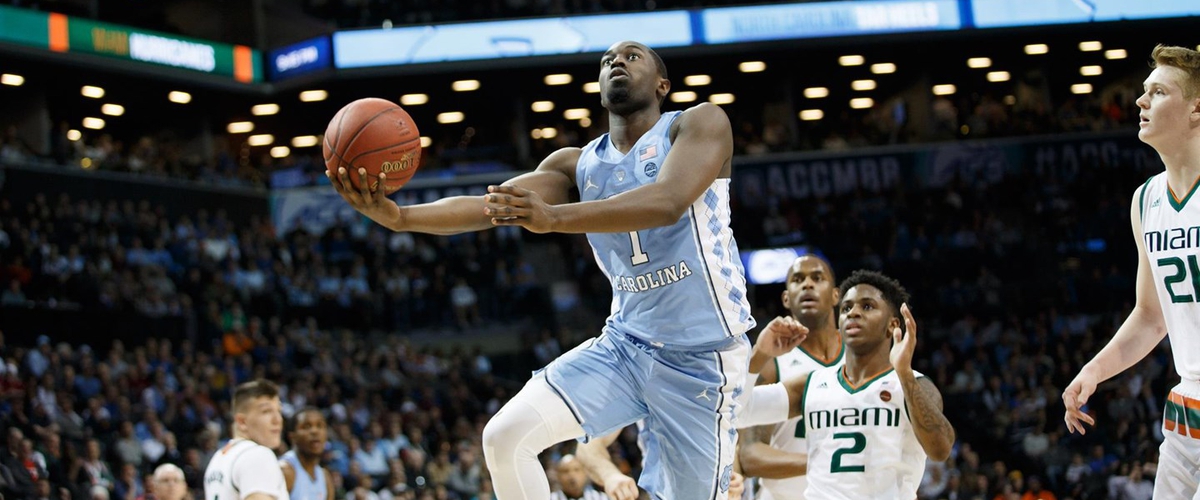 Theo Pinson scores two of his 25 career high points in last night's win vs Miami. Photo Credit: Goheels.com
The Tar Heels outscored Miami 50-34 in the second half and they will meet Duke in the semifinals for the second straight time tonight in Brooklyn. To many New Yorkers in attendance for tonight's game, it's a once in a lifetime opportunity to witness one of sports best rivalries in your own backyard. If you know the history between these to teams you will know how big this game will be. Duke-North Carolina part 3 will be epic.
Other Scores
Virginia 75, Louisville 58
Duke and North Carolina will be the talk of the tournament tonight but we can't forget about the No. 1 seeded Virginia Cavaliers who features Iona prep alum Ty Jerome. The Cavaliers beat Louisville 75-58 yesterday afternoon. tonight they will face off against No.4 seeded clemson in the first semi final game at 7pm.
See ya'll in BK