ACC Tournament Second Round Recap: Bubble Banter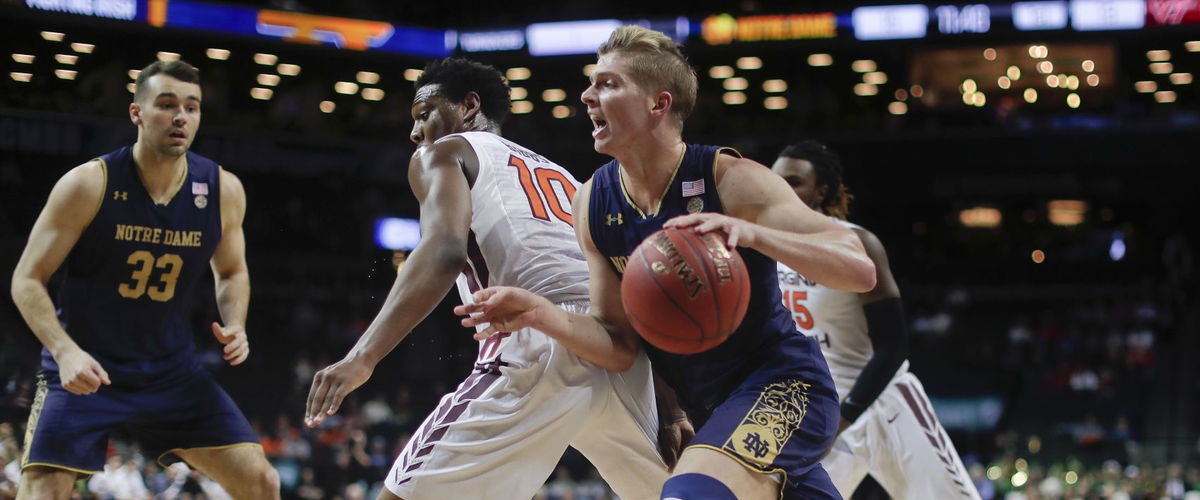 Photo Credit: Associated Press
Bracketologists across the nation have nine teams from the ACC going into the NCAA tournament, many of them are bubble teams and they played tonight to raise their chances of getting an At large bid. Some of these teams showed true grit while others fell short of getting the signature win for their resume.
Notre Dame 71, Virginia Tech 65
Notre Dame came into tonight's game vs Virginia Tech with a 19-13 record but they definitely needed a huge run in this tournament to get a bid but it wasn't easy for the Irish in the first half. The Irish fought hard with Virginia Tech for some of the first half until the Hokies started to pull away going up 27-17 with 7:11 remaining in the first half. The lead will soon balloon to 13 at half time as the Hokies dominated by getting a lot of easy buckets inside. Bonzie Colson struggled in the first half going 1-10 in the first half and scoring 2 points Virginia Tech also had a 12-2 edge in bench points.
In the second half, Virginia Tech will go up by as much as 21 points but The Irish would end up going on a huge run that changed the game for good. The Hokies were up 54-37 with 10:57 remaining, but the Irish would end up going on a huge 23-5 run to take a 60-59 lead. Bonzie Colson (12 Points 7 boards) would break out of his slump and bank in a 3 to give them their first lead. From there the Irish would never look back. Notre Dame pile outscore Virginia Tech 11-6 en-route to a 71-65 win over Virginia Tech. Matt Farrell scored 22 points in the victory
North Carolina 78, Syracuse 59
On February 21st Syracuse nearly upset UNC and last night the Orange got another chance to get a signature win but this time around they ran into a stronger Carolina team that dominated them from the jump. UNC went on to win 78-59 over Cuse and the Orange got a crushing loss that doesn't help their chances of making the tournament. Despite that coach Jim Boeheim makes a strong case as to why Syracuse is a tournament team. "Every coach in this country thinks this team is a tournament team, anybody that's anywhere near as I said yesterday, we got the best strength of schedule we've had in years I think 15, 20 something like that, both non-conference and Conference play , our RPI was 42 going into today and with that and the strong schedule I say that's pretty good". Boeheim makes a strong point but there's no question that Syracuse might be sweating it out on Selection Saturday.
As for the UNC Tar Heels, they approached this game with a sense of urgency after losing two straight games. UNC Guard Kenny Williams spoke about "We knew we had to come in and take care of business. We never talk about oh we lost two straight and we have to get this one but we know it's March, it's tournament time, and after the last game we're saying it's go time, everyone had an extra pep in their step tonight" Kenny Williams led UNC with 18 points while Theo Pinson scored 16 points and grabbed 11 boards for the Tar Heels.
While Syracuse will be practicing and playing the waiting game, Notre Dame will live to play another night as they will play No.2 seeded Duke on Thursday night at 7pm. If the Irish van pull off the upset, they will be locked in for an at large bid.
Other Scores
Louisville 82, Florida State 74
Quentin Snider scored 19 points, grabbed five rebounds and dished six assists. Ray Spalding Scored 18 Points. Louisville has a tough test ahead vs No.1 seeded Virginia at 12 noon.
Boston College 91, NC State 87
Ky Bowman scored 26 points in the upset win over NC State. If Ky Bowman continues to go on a tear, the eagles could find themselves going further than expected in this tournament.