Rise For NY: Nike's NY Vs NY Tournament Features NYC's best High School Players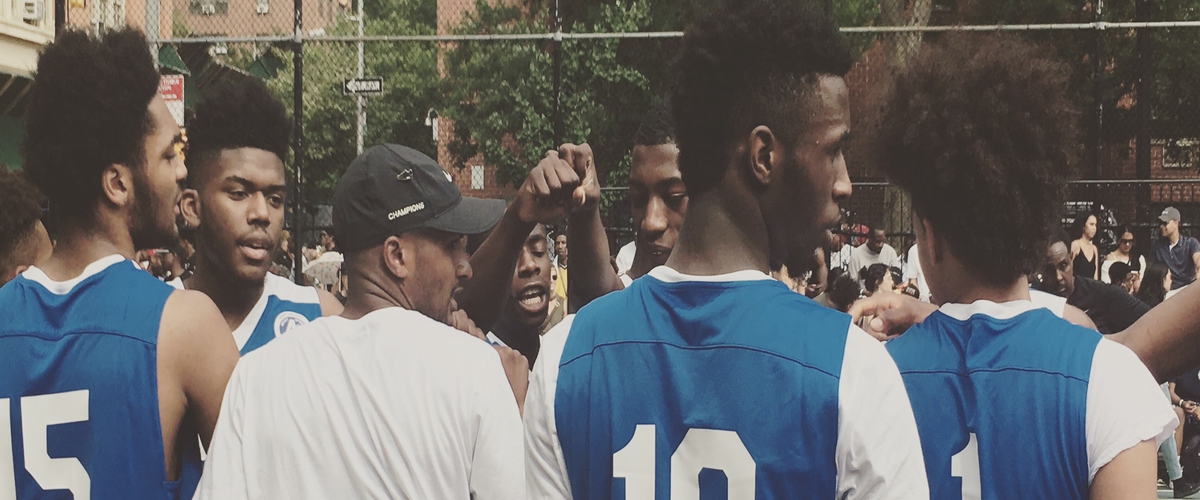 Nike's Rise For NY tournament is one of the hottest basketball events going on this summer. This tournament features the top High school basketball players from NYC and across the Tri-state area. These players play on teams that represent local Summer leagues sponsored by Nike and Jordan Brand. Every thursday the tournament will make stops at all nike sponsored tournaments. The tournament made it's first stop at the Kaws court on June 24th, then Watson on June 29th.
Tonight the tournament is in its third week and the tournament invades at Colonel Young Playground on 145th street and Lenox avenue, the home of Jordan Brand's Tri-State classic. So far this tournament has gained a lot of buzz in the city, just last week the tournament attracted a huge crowd when they made their stop at the Watson-Gleason playground in the Bronx. Let's take a look at each team.
Team Dyckman (2-0)
Team Dyckman has a very tough group of players led by 6-7 wing Jawaun Daniels and guards Ja'quaye James, and Ty Rucker. Rucker a 5-6 guard who led the city in scoring during the high school season has been the x-factor for team Dyckman in this tournament, after 2 games he and Jawaun Daniels lead the team in scoring with 13 points a piece. Outside of Rucker and Daniels Dyckman has a stacked roster of Wings and guards who can get hot at any minute. Last week at Watson Bryce Wills, Alejandro Vasquez and Luther Muhammad all made their debut for Team Dyckman. Dyckman will look to stay undefeated as they will play team tri-state at 6:30 tonight
Team Tri-State (0-1)
Team tri-state will look to redeem themselves after a tough loss in overtime to team Watson on June 24th. In that game Markquis Nowell and Cahiem Brown had big scoring performances, Nowell scored 21 points dished five assists and grabbed four rebounds while Brown scored 25 points and grabbed eight rebounds. Other players on this team to look out for are rising sophomore Noah Farrakhan (St. Benedict's prep), big man Daniel Cabassa, high flying forward KC N'Defo among others.
Team Gersh Park (1-0)
Team Gersh Park looked strong in their debut last week as they beat Team West 4th 74-60. Lawrence Woodmere Academy big man Aidan Igiehon, high flying wing Rodney Ray, City champion Klay Brown and CHSAA player of the year Keith Williams are just a few top players to look out for on Team Gersh. They will play Team Watson at 5:00
Team Watson (1-1)
Team Watson is another team that needs to bounce back tonight as well. Watson suffered a tough loss to Team Dyckman last week in their home court and they have the players to get them back on track. Rising senior guard Dashawn Davis leads the team in scoring with 21 points per game. Davis who many claim as the hottest player of the summer can change the game quickly with his offense. South Kent rising senior guard Anthony Nelson and Demarius Pitts are the other two leading scorers on this team look for them along with a great supporting cast to bounce back when they play team Gersh at 5:00pm
Team West 4th (0-2)
Team West 4th has been off to a rough start at 0-2. Team West 4th didn't have a full squad in their loss to Gersh last week. Jamel Horton, Deondre Bourne, Precious Achiuwa and Elijah Olaniyi are just a few key players on this team. Team West 4th is on a bye week this week which gives them enough time to regroup for next week.
Tonight's games will take place at Colonel Young Playground on 145th Street and Lenox avenue. first game will tip off at 5pm. Early arrival is advised because the park will be packed once the game starts.