RISE FOR NY: NY vs NY Week 5 Playoff Preview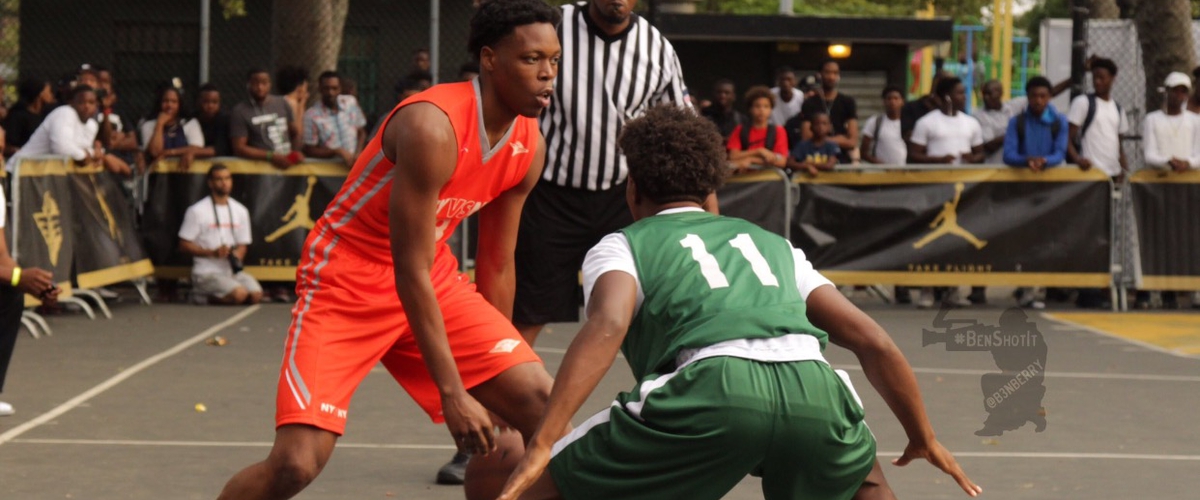 Photo Credit @BenBerry
The time has finally come. The NY vs NY playoffs are here and four teams will be playing for a spot in Saturday's championship. The NY vs NY tournament has been great these past couple of weeksas all teams have played hard to reach this point. Teams have had to change their rosters to make up for the players who had to leave town during the NCAA live period last July, but with that period long gone and most of the top talent being home, all four teams are prepared to face off in the final four tonight at Dyckman Park. At 6:30 No.3 seeded Team Tri-State will go up against No.2 seeded Gersh Park. and at 8pm no.1 seeded Team Dyckman will go up against no.4 seeded Team West 4th. Lets take a look at how each team got here.
Tri-State Classic
Team Tri-State started the tournament 0-2 but since then have won 2 straight against Gersh Park and West 4th to grab the 3rd seed in the playoffs. Leading scorer Cahiem Brown (21.4 ppg) might make his return but there are new additions to the team. Ali Sumareh, Elvin Rodriguez, Gregory Jones, and Jaheam Cornwall have joined the team and there is a possibility many players who weren't with the team during the live period may comeback. It's no question that Team Tri-State has improved greatly since the start of the season, but they face a very big test tonight. They won't be facing the Same Gersh Park team they played on week 4.
Gersh Park
Team Gersh Park finished the season as the 2nd seed in the tournament and will get a chance at revenge against team Tri-state. Last time both of these teams played Tri-state won by 20 in week 4 at The Cage. With the live period over, many of their top players should be returning, but at the same time their core will also be around as well. Guards Jamari Lewis and Jamir Cheek (2nd in assist with 5.7 apg) have been holding it down for Team Gersh. Shevon Ansica held it down for Team Gersh in their last game vs Team Dyckman on July 20th. Ansica, a 6-5 forward can give Gersh Park a player who could play inside and outside.
West 4th
Team West 4th finished the season 1-3 but grabbed the last playoff spot because they owned the tie breaker over Team Watson who they beat in Week 4. West 4th will play Team Dyckman who they lost to 67-63 on opening Day back on June 24th. West 4th has great guard play in guards such as Marion Williams, Storm Jones and Jamel Horton and they also have a key addition in Rheaquan Taylor a 6-7 forward who gives them a strong front court presence. Look for Coach Trevor Harris and his squad to attempt to upset Top Seeded Dyckman
Team Dyckman
Top seeded Team Dyckman is out to prove that they can't be stopped and for the first time tonight they will be playing at home. Team Dyckman has a stacked squad that includes top assist man Ja'quaye James (6.7 apg) and arguably the pick for Nike player of the year Jawaun Daniels(16.3 ppg 3rd in tournament). Outside of their top players they have a strong supporting cast in Jose Perez, Bryce Wills, Ty Rucker, and more. Team Dyckman is aware that Team West 4th is looking to upset them but with the great coaching staff and the home crowd behind them, they are confident they can avoid being upset by Team West 4th.